01 Feb

CEO OF QUOTED DIRECT RETAILER TAKKT AG SPEAKS AT CLAIRFIELD CLIENT EVENT IN GERMANY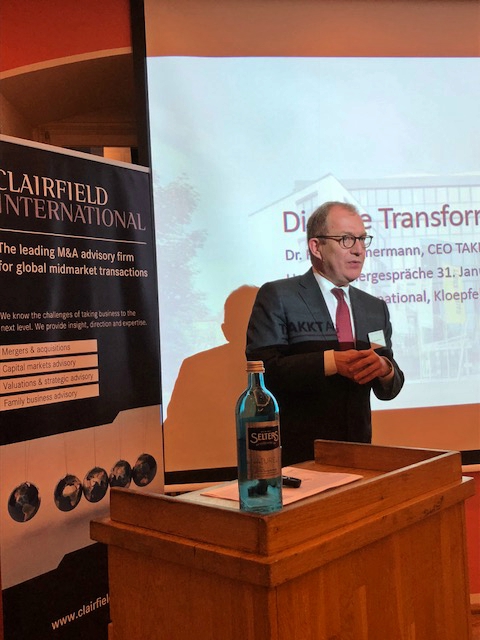 Dr. Felix Zimmermann, CEO of quoted direct retailer TAKKT AG, was the speaker at the most recent "Unternehmergespräche" event. This Clairfield leadership series is geared towards CEO-level executives and provides Clairfield clients with an opportunity to attend presentations and participate in discussions on a range of topics of interest to business leaders. The events are co-hosted by international legal advisors CMS and business performance consultants Kloepfel and held in different cities in Germany. The January event was held in Stuttgart.
Felix Zimmermann leads the TAKKT Group, a portfolio of B2B direct marketing specialists for business equipment, distributed via an integrated multi-channel approach with sales and marketing activities in print, online, telesales, and field channels. The company has a market cap of EUR 1.6 billion. Felix Zimmermann gave an engaging speech to business leaders about the digital transformation of his group and the challenges and "must-dos" for management in handling such a process successfully.
Alexander Klemm, chairman of Clairfield International, said "Dr. Felix Zimmermann is a prominent business leader who has successfully repositioned TAKKT in a competitive market by fully embracing digitization. We had a packed house and lively discussions about this timely subject that is at the forefront of business innovation today."