Clairfield unveils new corporate design
Clairfield unveils a new logo today, a key part of a branding refresh of its corporate design that will continue with a new website to debut over the summer.
The new logo is a square dot next to the Clairfield name in an uncluttered sans serif font. The dot is a nod to the previous Clairfield logo that contained the name in a square. The word "international" is now downplayed, as it has become such an integral part of the Clairfield brand that we find it unnecessary to give it top billing in our logo. Two versions of the logo allow for use with or without the word international and we foresee greater use of the simpler version. The logo color remains a combination of strong blues and black.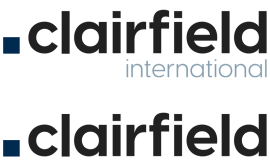 Since 2004 Clairfield has been advising clients on midmarket transactions with a strong emphasis to basing our advisory on solid sector and M&A expertise, process know-how, and seamless international teamwork. With 300 professionals in 25 countries and a track record of almost 2000 transactions and over EUR 25 billion in value, Clairfield is ranked at the top of region and industry league tables.
After 18 years of history and 12 years since our last study of the Clairfield brand, it was time to adapt the logo to better reflect our innovative and clear thinking and highlight our dedication to our clients' success, however they define it.
"We love the square for its impact and associations of strength and a certain classicism. With our new logo we are now literally out of the box while maintaining it in an updated style," says Thierry Chetrit, vice chair of Clairfield and one of the leaders of the rebranding initiative.
"The new corporate design builds on our strengths and shows continuity with an updated look. We are looking forward to unveiling the new website, which will further showcase Clairfield achievements. Together with the enlargement of the equity partnership in Q1 2022, they form the backdrop to our partner firms' full embrace of the power of the Clairfield brand," says Alexander Klemm, executive chairman of Clairfield.