Cybersecurity report 2023: This ever-evolving sector's growth, challenges, and changes
The marked increase in worldwide cyber attacks — which are increasingly more challenging to identify — along with a much tougher stance from cyber insurance companies, has meant that organisations must stay informed about the latest cybersecurity trends and invest in robust measures to defend against potential attacks. 2022 proved just how vital cybersecurity will need to be in the future of global smart manufacturing.
This sector snapshot presents Clairfield's cybersecurity experience, market highlights, notable transactions, and deal volumes, and looks at who the key industry players are.
Read more in our Cybersecurity Snapshot.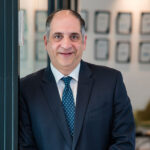 Joseph Sabet heads Clairfield's cybersecurity practice.